Megu is a Board Certified Art Therapist (ATR-BC), Licensed Creative Arts Therapist (LCAT) and a certified psychoanalytic psychotherapist from Object Relations Institute, NYC.
Reading Time:
10
minutes
Last Updated on October 13, 2023 by It's Complicated
This article explores how online art therapy was carried out with a Ukrainian refugee. Art Therapist Megu Kitazawa shows that it is possible to achieve a creative process that strengthens the client, helps her stay positive in times of adversity and uncertainty, and allows her to gain insight into the refugee experience through online art therapy.
With just Poland separating Russia's atrocities in Ukraine from Germany, the war has seemed unfathomably close to me. Within a few weeks of the Russian invasion of Ukraine on February 24, 2022, I felt a sense of loss as I faced, once again, empty shelves in supermarkets in Berlin. It was my second time experiencing this ordeal; the first was during the COVID-19 pandemic. This time, however, flour was not the only basic necessity that had been swept from shelves. Cooking oil, too, was scarce.
As an expat myself, I relate to most of my private practice clients, where Berlin isn't the first city they migrated to. Some have moved as many as five times in adulthood within central and western European countries. With my clients, including the Ukrainian refugees, I needed to "look beyond the mother-child relationship and the notion of a flawed or defective developmental process based on the mother's pathology" (Engle Murphy, 1996, p. 142). The other common grievances among my clients are the lack of a sense of belonging, confusion about what it means to have a home, an unexpected process of creating a chosen family, and to face a realization about "the loneliness of being one's own parent" (Yalom, 1980, p. 357 ). These existential uncertainties surfaced after undergoing several life transitions involving new languages, relationships, relocations, grief, and farewell. 
In mid-March 2022, Therapists for Ukraine by It's Complicated, a service that offers a minimum of four free counseling sessions to those affected by the war, was launched. To learn more about working with refugees using art therapy, I found it helpful to continue on the path to practicing existential therapy, which emphasizes a sense of "identity, autonomy, and efficacy" (Fitzpatrick, p. 155, 2002). The themes surrounding existential conflicts, such as anxiety, dread, isolation, and meaninglessness, are all too familiar among my clients, whether they are Ukrainian refugees or not. According to Yalom (1980), the existential guidelines are:
Acceptance of being mortal
Being aware of one's responsibility
Being here-and-now
Finding the meaning and purpose of life
Understanding a sense of freedom.
For example, "freedom" means to choose how we interact with others, to express ourselves in our ways, and to be the author of our world (Story, 2007, p. 22). Story (2007) continued:
Once the client becomes aware of the power and responsibility that they possess in their life, existential therapy has the potential to aid the client in creating a life for themselves that is both valuable and incredibly meaningful. (p. 22)
And with expressive art-making, existential art therapists can help increase self-awareness without words and promotes clients' personal development and transformation (Story, 2007, p. 22) by providing clients with the following conditions: "solitude, silence, time, and freedom from the everyday distraction" (Yalom, 1980, p. 8).
Case Example
Daniela (pseudonym), a twenty-seven-year-old cisgender Ukrainian, contacted me via Therapists for Ukraine. Daniela continued her remote work as an illustrator and arrived in Slovenia in March from Kyiv with her younger sister. In contrast to my impression and presumption about refugee immigrants, she was financially independent by working on illustration projects from agencies worldwide. Daniela has no problem verbally communicating with me even though she has neither traveled to the U.S. for an extended period nor attended a school focused on the English language in Ukraine. Her parents and grandparents stayed behind in Kyiv, and she talked to them using video conference calls every day. Her mother's pragmatic saying, "A war happens all the time and every day in the world. It just so happens to be happening now in our country," helped Daniela to rationalize what was happening in Ukraine. Although it temporarily calmed her thoughts and feelings, she wanted to untangle her "confusion" and "talk to someone," which led her to seek counseling. She was also experiencing a sense of guilt for leaving her country without being "helpful" and "doing something about fighting the war."
Ethical Considerations
Before Daniela's first session, an informed discussion explaining how online art therapy would be conducted. For example, the camera angle would be adjusted during the art-making process, and it goes back to the eye-level angle when we start discussions. The informed consent included explanations about the type of service I provide, and the conduct of online behaviors, such as wearing appropriate attire and bringing no alcoholic beverages to the session. In addition, it summarized a policy of confidentiality, understanding the risk of the security breach as well as audio/visual problems, and how to get back online if she is to be disconnected. English was the primary language in the sessions. For this article, Daniela had given me consent to present the case; she photographed her artworks and read the final manuscript to confirm the accuracy and to review her real identity is well concealed.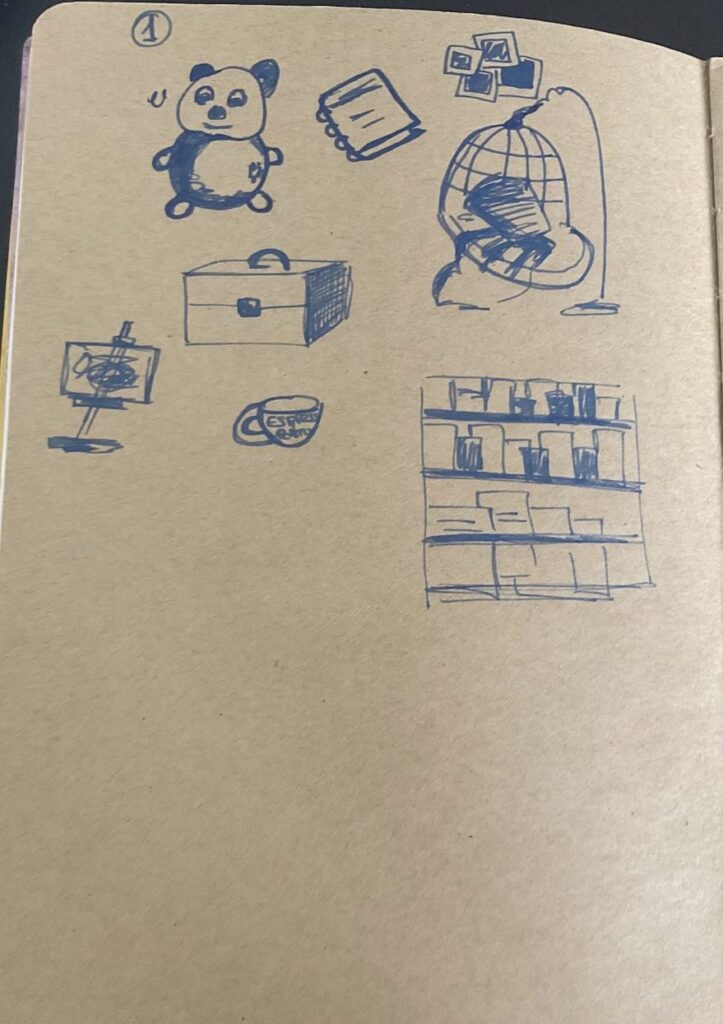 Creating Art Therapy Goals
Since the end of March 2022, online art therapy with Daniela has taken place for 60 minutes per session. First, Daniela wished to meet every two weeks since she was adjusting to the new country and the limited number of free sessions recommended by It's Complicated. She said, "I feel guilty about taking someone's time or space for free." Therefore she was trying to "stretch out" the allocated time. However, by mid-April 2022, I suggested a weekly connection with Daniela. This decision was made based on Daniela's high motivation to create expressive works that seemed to overflow. At the same time, she projected profound loss and grief through the monitor and needed more time to explore them. Daniela and I also created care goals and which topics she would like to address: 
Because of her carefree upbringing in Ukraine with a loving family, she found the Russian invasion unfathomable and wanted to assuage her new-found aggression and urge to retaliate.
She believed in humanity and that, despite the invasion, there were "good" Russians. She admitted she was naive, but her goal was to remain positive and stay empathic to those with no ill will against Ukrainians.
She felt lucky to be an artist and earn a living. However, simultaneously, she wanted to study something new in a foreign country. Leaving Ukraine, it turns out, was an opportunity for her to change her career path and feel her freedom full-heartedly.
She also wished to be more productive in making illustrations to maintain a sense of purpose and professional identity but admitted that the home office could be isolating. So she would be less isolated through online art therapy by establishing a therapeutic relationship with the art therapist who would be supportive when her family cannot provide a sense of security.
The First Session
Daniela's rented room in Slovenia looked clean but empty. She had a feeling of being "stuck" and confused and needed extra motivation to produce her illustrations. She also spoke about her preflight experience and how she arrived in Slovenia. Her parents had bought train tickets for her and her sister to flee. However, the train ran into trouble on its journey and needed to turn back. Desperate, Daniela reached out through social media to ask if anyone could accommodate her and her sister. Then a contact in Slovenia offered to take both of them. However, as she spoke, there was a noticeable flatness in her facial expression—as though she was still in shock and processing the events. She neither laughed nor smiled and occasionally became tearful.
I introduced drawing tasks based on the Diagnostic Drawing Series (DDS) art therapist Barry M. Cohen developed in 1982 (Cohen, 1994, p. 105). Instead of using it to diagnose her, the drawing series assessed how she used art materials and gave her some structures when she felt uncertain. Moreover, owing to the limitations of Daniela's circumstance, I modified the administration of DDS: one that did not require 18" x 24" white drawing papers and a 12-color pack of square pastels, which were inconvenient to obtain and unfeasible to apply in the situation. DDS was also explained to Daniela without using words such as "diagnosis" or "diagnosing" since this was her first therapy experience. Instead, the term "a drawing series" was spoken.
Daniela's first task was to draw a picture using art materials of her choice. She drew Figure 1 to display some items she missed from her flat in Kyiv: a teddy bear, art materials, a hanging chair, and a red bookshelf filled with children's books. She reminisced about how she decorated the space and how peaceful it had made her feel.
Her next task was to draw a tree. Her drawing (Figure 2) was of seven trees in various styles. Initially, I assumed that her audio quality and accent had led Daniela to misunderstand the task and draw multiple trees. But I believed my instructions were unclear, which, in my experience, often happens with this particular task. While "a" in English is an indefinite article used with single objects, its equivalent in some languages—including Japanese—can be interpreted as "any" or "any number of" and used to imply multiple objects. Not wanting to interrupt Daniela's process, I asked Daniela to select the tree she thought represented herself, and she chose the tree divided in half on the top right. Daniela commented, "I don't think all Russian people are bad." However, given the situation in Ukraine, she felt increasingly ambivalent, and this division between light and dark seemed more apparent in her mind.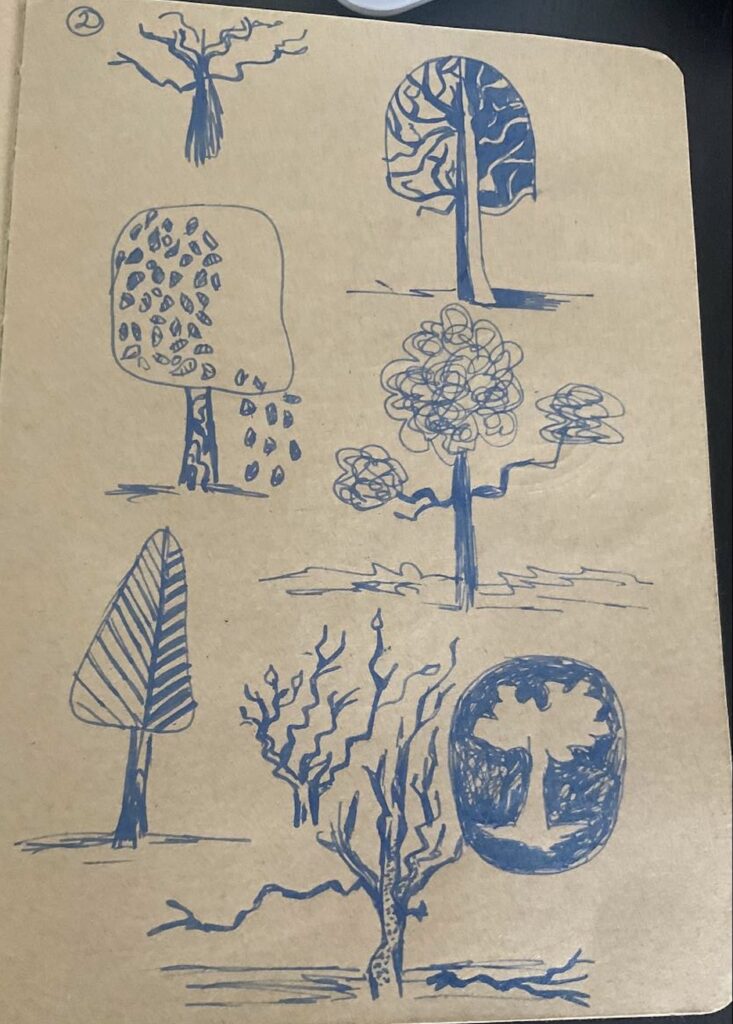 Lost and Found
At the end of April 2022, Daniela and her sister moved to Lisbon, Portugal. Her mood and feelings improved because of the warmer weather. However, she described a recent incident where she lost her hat. Walking along the beach one afternoon, a gust blew her straw hat off. She tried to get it back, but the strong winds made it impossible. Later, at a market, Daniela saw a man with her hat on his bicycle. She told him the hat belonged to her, to which he replied, "I found it on the beach." Finally, she convinced him to return the hat, and he did so reluctantly. It was important for her to get a piece of belonging from Ukraine, the straw hat, back into her luggage that she described as "my new home."
Inspired by this story, I suggested Daniela draw a picture of "lost and found." In addition, discussion about venues where things commonly got lost and found, such as on public transportation and in schools, was prompted. The items that Daniela was asked to draw did not have to be tangible objects; they could be abstract, like feelings, visions, and relationships. Figure 3 portrays Daniela losing her apartment in Kyiv, where she felt the most at peace. The smoke-like figure behind represented her dreams and the hope she found while migrating. She said, "I realized that I can start over, and I can study something else and somewhere else other than in Ukraine." Her willpower to believe in herself, her resilience, and her active engagement in creative processes were astonishing.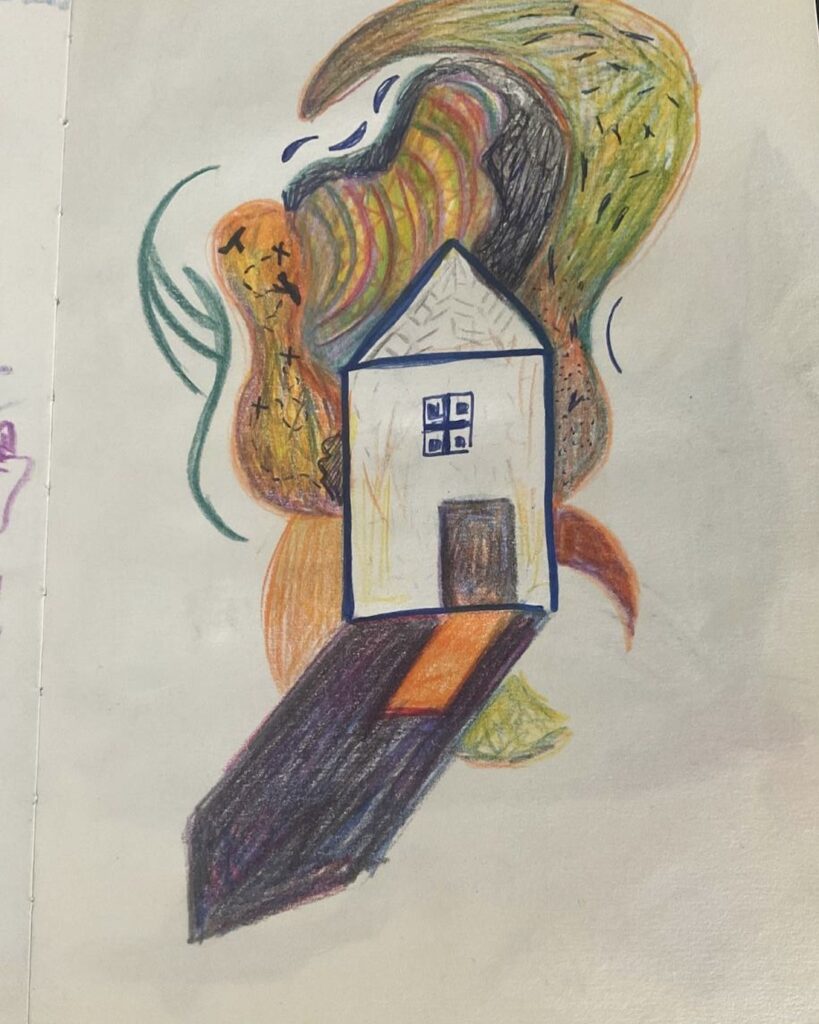 Focusing on the Sensory Safety
It was essential to encourage her to remain positive and continue feeling her physical safety. So for the next task, a positive therapy directive, "Tree of Life" (Denborough, 2008, as cited in Darewych and Bowers, 2018, p. 64), was introduced. Figure 4 shows her tree of life, which she divided into four sections. The bottom two sections were roots representing her family, friends, and two cats (relationships). For the trunk, which depicted her strength and skills, she drew art supplies and a book (skills and academic achievements). Next, a bus and airplane represent her living abroad and searching for a sense of belonging, while the bubbles symbolize her hopes and freedom. Finally, a symbol of peace represented her non-religious beliefs and spirituality that people are generally good, like those who provided accommodation and food for her. These positive art-based interventions seemed to help Daniela know that she was safe and that it was okay to be safe.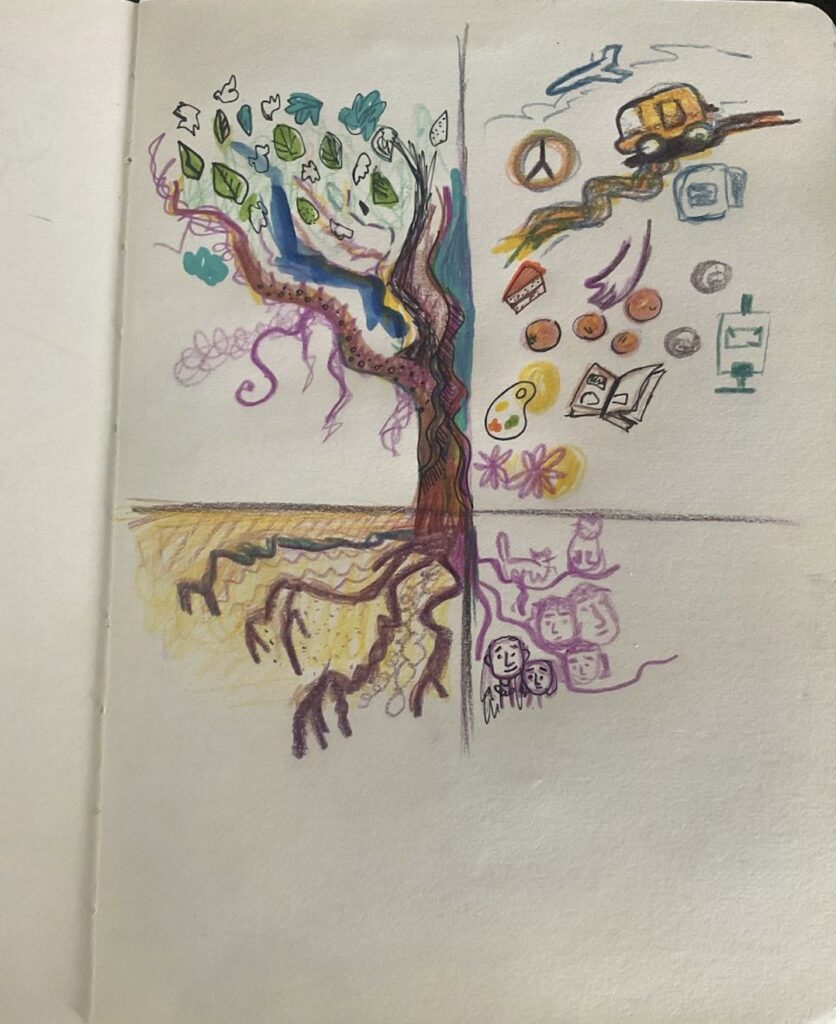 Finding a Purpose in Ukraine
In June 2022, Daniela bought train tickets to return to Kyiv with her sister. She said her mood had improved after purchasing the train tickets because she regained her sense of purpose "to go home." Not only did she want to be reunited with her parents, but she also wanted to find whether she could fulfill her sense of responsibility as a Ukrainian. Daniela and I discussed the risks involved in returning and how difficult it might be for her to see her city again. Furthermore, aware of the ever-changing situation in Ukraine, she said she was prepared for interruptions on her journey home.
Since it was the last session before her trip, I suggested her to create an image to portray our working/therapeutic relationship (Figure 5 – header image). She explained that the person driving the camper van was me, symbolizing my emotional support and the ability to "carry" Daniela's experiences. The balloon floating atop the van was Daniela herself, which she said represented the instability she felt from having to move to various countries in one month. In her drawing, the camper van drove along a street full of cracks and holes but safely. It also represented the "up-and-down emotions" she and I had to go through. The road then splits into two paths. First, there is a pyramid with the sun representing her "hopes and anticipation" to return to Ukraine. The other path led to circular, bubble-like shapes, which she said was a road to the "unknown" that awaited the author and Daniela when they reconnected in August 2022.
Conclusion
This case example showed the combination of the existential therapy approach and art therapy with a Ukrainian refugee who desired to express herself in a new way instead of following the traditional referral route that would have led her to conversation therapy. In addition, it displayed the usefulness of the existential therapy approach in short-term sessions and in dealing with crises such as wars. Despite the limitations of this case example, these experiences with my client highlighted the positive use of existential therapy with grounding art engagements to promote self-expression and to focus on the purpose and meaning of life—a common theme among clients from Therapists for Ukraine. Although I'm in Berlin, Germany, thanks to improved video conferencing platforms, cries for hope and help can be received and heard. Furthermore, the portability of the therapeutic space also provided much-needed support for a Ukrainian refugee, who has been relocating every so often, helped her stay positive in times of adversity and uncertainty, and allowed her to gain insight into her life away from home.
References
Cohen, B., Mills, A., Kwapien Kijak, A. (1994). An introduction to the diagnostic drawing series: A standardized tool for diagnostic and clinical use. Art Therapy, 11(2) 105-110.
https://doi.org/10.1080/07421656.1994.10759060
Darewych, O. H., & Riedel Bowers, N. (2018). Positive arts interventions: Creative clinical tools promoting psychological well-being. International Journal of Art Therapy, 23(2), 62-69. https://doi.org/10.1080/17454832.2017.1378241
Engle Murphy, P. (1996). Existential art therapy: The canvas mirror (second edition) [Review of the book Existential art therapy: The canvas mirror (second edition), by B. Moon & M. MDIV]. Art Therapy, 13(2), 141-142. https://doi.org/10.1080/07421656.1996.10759211
Fitzpatrick, F. (2002). A search for home: The role of art therapy in understanding the experiences of Bosnian refugees in western Australia. Art Therapy, 19(4), 151-158. https://doi.org/10.1080/07421656.2002.10129680
Story, M. L. (2007). Existential art therapy. The Canadian Art Therapy Association Journal, 20(2), 22-34. https://doi.org/10.1080/08322473.2007.11434771
Yalom, I. D. (1980). Existential Psychotherapy [ebook edition]. Basic Books. https://www.amazon.de/-/en/Irvin-D-Yalom-ebook/dp/B085P24DDQ/ref=tmm_kin_swatch_0?_encoding=UTF8&qid=&sr=